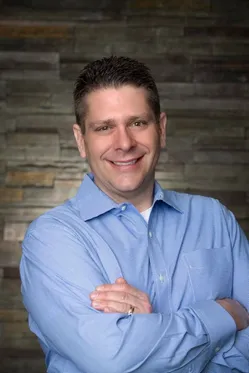 Dr. Christopher Paulson
Arbor Dental Associates
44170 W 12 Mile Rd Ste 200
Novi, MI 48377
Dr. Christopher Paulson has always had a strong passion for dentistry. Prior to dental school he was a dental lab technician for 10 years. As a dental technician he fabricated crowns, bridges and implant restorations. This knowledge and experience provided a strong foundation for his professional career as a dentist.
Dr. Paulson graduated from the University of Detroit Mercy Dental School and is the fourth generation of dentist in his family at Arbor Dental Associates, who has been serving the metropolitan Detroit community since 1926. He regularly attends continuing education courses. He has participated in seminars at the Dawson Academy for Advanced dental studies (Florida) focusing on temporal mandibular joint (TMJ) and occlusion (bite) therapy.
Dr. Paulson is a member of the American Dental Association, the Michigan Dental Association, and the Oakland County Dental Society. He is also the leader and founder of the Motor City Dawson study club, which focuses on advanced patient care and a total wellness model of dental medicine based on the principals taught at the prestigious Dawson Academy. Dr. Paulson feels prevention is the key to long-term oral health with emphasis on patient education. His vision is to provide the highest quality of dentistry and also works very close with local specialists to achieve maximum results.
While away from the office Dr. Paulson enjoys spending time with his wife, Tiffeny, their children Emalyn and Andrew and the family dog, Stella. He is also an avid outdoorsman and enjoys hiking, fly fishing, kayaking and shooting sports.
Why Choose A Dawson Trained Dentist?

As a graduate of the Dawson Academy, Dr. Paulson is one of only 10% of dentists in the country practicing the concepts of complete dentistry. Our Dawson Academy-trained team takes a total-health approach, and our formula for exceptional dentistry has been working for generations.
The Dawson Academy is a prestigious postgraduate educational and clinical research facility that has lead the way in advancing dentistry for more than 30 years. Our training with them means we are dedicated to caring for our patients at the highest, most advanced and professional level
Unlike most dentists, Dr. Paulson practices the Concept of Complete Dentistry, which emphasizes a comprehensive, individualized approach to a patient's dental care, beginning with prevention and early intervention. Contrary to what you might think, this doesn't mean drill and fill every tooth.
Rather, the Complete Dentistry that Dr. Paulson practices requires an understanding of every structural part of your chewing system, including your jaw joints, facial and temporal muscles, and teeth. In the long run, this could save you from years of pain, suffering and extensive costs for multiple and repeated dental work.
Analyzing the 10 structural and functional factors in the chewing system is the basis for every new patient examination so that Dr. Paulson can properly diagnosis and treat not only obvious problems, but also those that haven't even shown signs yet!
Did you know that most dental problems are not painful at first, but can be identified by a trained dentist before any symptoms or damage occur?
As a graduate of The Dawson Academy, Dr. Paulson is one of only 10% of dentists in the country who practices the Concept of Complete Dentistry. He can identify the signs of problems before any symptoms or damage occurs, which means you can receive treatments in a more conservative and less costly manner.
About The Dawson Academy
Just like most professions, there's a range of skill levels among dentists based on type of advanced education, training, and philosophy of patient care. The Dawson Academy is an advanced dental education facility where dentists teach dentists to be better dentists.
Founded by Dr. Peter Dawson, The Dawson Academy teaches the Concept of Complete Dentistry. Although more time consuming for dental practices, Complete Dentistry results in more consistent, predictable and healthy outcomes for your oral health.
Dr. Dawson is one of the most respected and honored dentists in the history of dentistry. With a passion for teaching dentists to do it "right", he developed the Concept of Complete Dentistry to provide patients with healthy, beautiful smiles that would function properly and serve them comfortably for the rest of their lives. With two best-selling books on the Concept of Complete Dentistry, Dr. Dawson has influenced tens of thousands of dentists to pursue a better outcome for their patients.