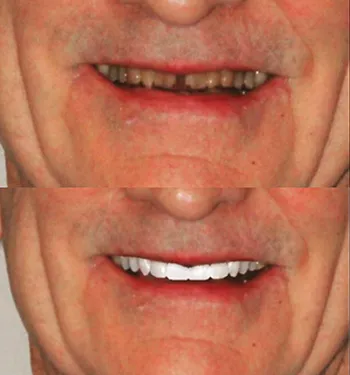 2D DIGITAL MOCK UP
Full mouth reconstruction describes the process of restoring dental health by addressing extensive tooth damage, gum disease or complex bite problems. Also known as a complete smile makeover in many cases. This is a combination of general restorative and cosmetic dentistry used to give patients back a natural, functioning smile. Novi Michigan dentist, Dr. Christopher Paulson has extensive training in many facets of dentistry and has over 13 years of experience treating complex dental problems. He will design a customized treatment plan to restore oral health, focusing on any underlying dental problems that may compromise long term results to ensure the best possible outcome. Dr. Paulson offers a 2D rendering of the final result to give patients a view of possible outcomes. Periodontal disease occlusal disease and missing teeth are common dental problems that may require full mouth reconstruction to be treated effectively. Dr. Paulson will work with each patient to address their dental health problems, cosmetic goals, and budget concerns.
Treatment Options
Periodontal therapy: Dr. Paulson may need to restore gum health as part of a full mouth reconstruction to give the teeth a strong foundation.
Restorative dentistry: a variety of restorative procedures may be used including Dental Crowns dental veneers, dental implants or dental bridges.
Orthodontics: traditional braces or Invisible aligners may be recommended to realign the bite and straighten teeth
Oral surgery: when necessary, bone grafting, gum surgery, and even jaw surgery may be part of the treatment plan for restoring dental health and a functional smile. In many cases, Dr. Paulson will incorporate a variety of treatments that may be phased over several visits to accomplish the desired outcome.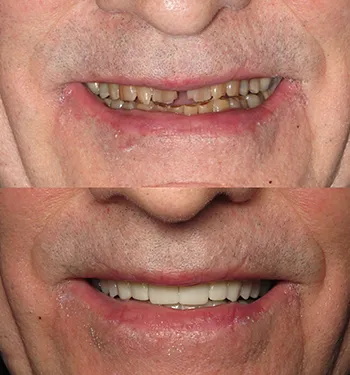 FINAL CROWNS ALL TEETH
Affordable Dentistry in Novi, MI
It is important to note the difference between a full mouth reconstruction and a smile makeover: a full mouth reconstruction is typically considered a necessary treatment plan to restore dental health when there is significant trauma, disease or damage. A smile makeover is considered elective treatment to address cosmetic concerns that are not affecting oral health.
When reviewing your treatment plan, Dr. Paulson will present you with costs and help you make financial arrangements. In many cases, treatment can be phased to accommodate a patient's budget. We can assist with planning for the use of HSA dollars and also offer payment plans to qualified patients through CareCredit. Please inquire at our front desk for additional payment options. We will also file your insurance claims on your behalf, with reimbursement being sent directly to you.