Dental Implants, Fixed Partial Dentures & Your New Smile In Novi, MI | (248) 468-4962
Dental implants are the most innovative, revolutionary method to replace missing teeth. They can replace a single or multiple missing teeth and they can also support a removable appliance like a denture or a partial. They are stable and permanent because they fuse with the surrounding bone, becoming embedded in your jaw. Because they are fixed, they are also more convenient because you never have to remove them, and you clean them just like your natural teeth.
Professionals at Arbor Dental Associates in Novi, MI want to share how dental implants, combined with fixed partial dentures, can restore your smile. You can have full chewing function, allowing you to eat the foods you love and a beautiful smile which you will be proud to show to the world.
Depending on how many teeth you need to replace, the dental implants will be capped with permanent crowns, fixed partial dentures, or full dentures.
Advantages of Implants & Implant Supported Dentures
There are many advantages to dental implants and dental implant supported fixed partial dentures. Consider that dental implants are:
Permanent, because they can last a lifetime with proper care
Durable, because they don't decay and are also stain resistant
Natural, because they look just like your existing teeth
Convenient, because you don't ever have to take them out
Healthy, because you clean them just like your natural teeth
Dental implants and fixed partial dentures can also make you look younger because they help conserve the bone in your jaw. Removable dentures or partials can cause your bone to diminish because they put pressure on your jaw. Dental implants actually help build more bone to fuse around the implants. This means you can retain your firm jawline and the youthful contours of your face.
Hybrid Implant Supported Dentures
Having a missing tooth isn't only embarrassing; it also affects your oral health. When you're missing a tooth, bone loss and an unbalanced bite will occur which can lead to TMJ symptoms. Dr. Paulson offers a single dental implant for patients that are missing a tooth.
A Dental implant is a surgically implanted titanium post that replaces the missing root structure. A dental implant restored with a dental crown is the most natural looking and permanent solution for tooth loss. The dental implant process is now a routine procedure that offers the highest success rate and long-term oral health benefits.
A dental implant allows a patient to maintain a normal oral hygiene routine and eat and speak with confidence. A dental implant also provides long-term support of the jaw bone and deters deterioration or recession of the facial structure.
SINGLE DENTAL IMPLANT PROCESS
Dr. Paulson will need to perform a comprehensive evaluation and examination of your oral health as well as your overall health to be sure a single dental implant is right for you. Then a personalized treatment plan is created that is customized to your needs and goals. Working from your treatment plan, an oral surgeon or periodontist will place the implant into the bone. Dr. Paulson works with the leading oral surgeons and periodontists in the Novi, MI. area to ensure the best results for his patients. Dr. Paulson treats the patient from start to finish, bringing in specialists and surgeons for key aspects of the procedure. Their expertise in placing implants means that the patient will receive the highest level of care. Over a 3-6 month period, the titanium post will fuse with the natural bone helping it to support the structure of the jaw and to provide a secure base for the attachment of a dental restoration. Dr. Paulson will then secure a dental crown to the healed implant. The crown will be custom designed to aesthetically fit your smile.
PARTS OF THE DENTAL IMPLANT
A dental implant is made up of 3 parts; the implant post, the abutment, and the prosthetic tooth.
Implant post – This is the bottom part of the dental implant that is surgically imbedded into your jaw bone, below the gum line. It is cylinder shaped and resembles a screw. It's made up of bio-compatible titanium that will eventually fuse to the jaw bone creating a permanent and secure bond. This titanium post will act as the tooth root. Using Dr. Paulson's specific treatment plan, a local Novi, MI oral surgeon or periodontist will surgically place the dental implants.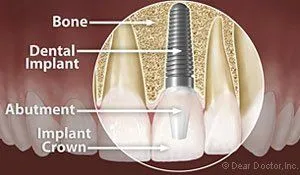 Abutment – This is a small part that connects to the implant post. Dr. Paulson will connect the abutment to the implant post after it has fully fused to the bone. It usually takes around 3-4 months for it to fuse. The abutment will screw right on to the implant post and will sit right at the gum line. This part will support the dental prosthesis.
Prosthetic tooth – The prosthetic tooth can be a dental crown for a single missing tooth. The dental crown is typically cemented or screwed on to the abutment. A dental bridge or denture will be used for multiple missing teeth. They can be secured to the abutment by simply snapping them in to place. The prosthetic tooth is the part that will look like a tooth (teeth) and will be color matched to blend seamlessly with your natural teeth.
What sets Dr. Paulson apart from other dentists is his experience and approach. An ambassador at the Dawson Academy, Dr. Paulson learns from the nation's leading dentists. Dedicated to his own post-graduate training, Dr. Paulson logs many hours of continuing dental education each year.
DENTAL IMPLANT BENEFITS
98% or higher success rate
Helps to avoid bone loss and gum recession associated with tooth loss.
Avoids degradation of healthy teeth (as in conventional bridgework)
Improves appearance of smile and lower face
Patients can eat food without restrictions
No worry of dentures slipping or falling out
Look exactly like your natural teeth
Superior durability and longevity
Improves speech
Increases comfort
DENTAL IMPLANT SOLUTIONS
If you're missing one or two teeth: Single dental implants can be used to replace one or two teeth. Usually, the implant is placed and restored with a porcelain dental crown or bridge. Dental implants can be used to replace teeth that are congenitally missing or teeth that have been lost due to accidents, tooth decay, gum disease or other reasons.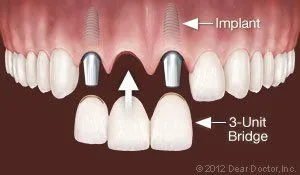 If you're missing several teeth: If you are missing several teeth in a row, Dr. Paulson offers dental implants can be placed to support a hybrid-bridge or partial denture.
If you're missing all of your teeth: We offer a variety of dental implant treatments to replace all of your missing teeth. We can also secure loose or poor fitting dentures with the use of mini dental implants. All on Four dental implants offers immediate function dental implants, so you never have to go a day without your smile.
IMPLANTS VS DENTURES
Dr. Paulson understands the embarrassment and anxiety that often comes with losing your teeth. He offers a wide range of options for replacing missing teeth including dental implants and dentures. For many patients, dental implants provide the best long term results for both aesthetic and health reasons.
BRIDGE VS AN IMPLANT
DENTURES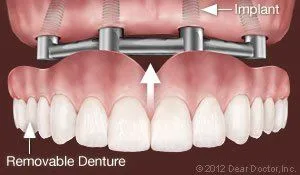 Dr. Paulson offers options for replacing missing teeth using dentures, partials and implant dentures. Dentures are custom made artificial teeth used to replace missing teeth and some of the gum tissue. They are not permanent meaning you can remove them and put them back in when needed. Full dentures are used to replace a whole row of missing teeth. Partial dentures are used to replace gaps of missing teeth. They are made in a dental lab with impressions of your mouth. Dentures take some time to get used and require a lot of care. Dentures will also need replaced or adjusted over time.
Fit and Function
A face without teeth will appear sunken and can add years to your appearance. Both dentures and dental implants will help keep the natural shape of your face and lower jaw area. With dentures, you may need to apply a gooey adhesive every time you wear them to hold them in your mouth. With Dental implants, you won't need to do this extra step because they are surgically implanted and can be treated like a normal tooth. Also, dentures may be a bit uncomfortable because they may cover a large portion of your mouth with plastic depending on the type of dentures you need. They may feel weird in your mouth and take some time to get used to because they are bulky. Dentures will deliver about a 30-40% normal chewing function. Dental implants will deliver a 100% normal chewing function. The constant worry that your teeth may fall out while eating is not an issue with dental implants. Oftentimes, dentures may slip around or may not fit correctly leaving you with the worry of falling out.
Bone Loss
If you're missing a tooth or multiple teeth, that void can cause bone loss and deterioration in your jawbone. Novi, MI dentist, Dr. Paulson will recommend dental implants over dentures because they are the only option for missing teeth that stimulates the jaw bone which helps stimulate bone growth. This will prevent bone loss.
Cost Comparison
Dentures cost significantly less than dental implants up front, especially if you are replacing multiple missing teeth. But dentures will also need replaced, realigned, or rebased over time. This cost can add up depending on the wear and tear. Dental implants cost more but are a permanent solution. If cared for properly, they will last forever. Another thing to consider is dental insurance will typically cover between 15% and 50% of dentures depending on your dental plan. Since dental implants are considered a cosmetic procedure, dental insurance will not cover them leaving you to pay the full cost of dental implants. You must check with your dental insurance provider to see if they cover a portion of the implant crown, bridge or denture.

DENTAL IMPLANTS COST FACTORS
Location and size of the implant – Since each patient has a different mouth, each dental implant case is different. The location of the dental implant and the size needed will have a huge impact on the cost. Some tooth locations in your mouth require more advanced dental care when placing a dental implant.
Need for bone grafting – In order to qualify for dental implants, the patient must have sufficient bone density. The titanium post needs to be surgically implanted and have enough bone to fuse with in order for the dental implants to be successful. If the patient does not have enough bone, a procedure known as bone grafting will need to be done and will impact the total cost for dental implants.
The need for extractions – If you are missing the tooth already, you can go straight to surgical implantation for the dental implant. If you have a damaged tooth that needs extracted first, this is a separate procedure with associated costs.
Over-all oral health – Often missing teeth are associated with other oral health problems such as gum disease. Patients suffering from oral health conditions will require treatment to ensure a healthy mouth for successful implantation.
Number of implants being placed – It will cost less to replace one missing tooth versus a whole row of teeth. It's best to schedule a consultation with Dr. Paulson at his Novi, MI dentist office to see exactly how many dental implants you will need.
PAYMENT OPTIONS & INSURANCE
Most dental insurance companies will cover preventive dental services such as dental cleanings, routine examinations and dental x-rays but most do not cover advanced restorative procedures like dental implants. Some insurance plans will partially cover the dental fabrication such as the dental crown, dental bridge or the denture. Each of our patient's dental insurance coverage is unique and will vary depending on the plan. Dr. Paulson strives to provide the highest level of dental care possible in a manner that is accessible and affordable for patients. Many of our patients have dental insurance and our staff will work with you to help you maximize your benefits. Our staff will take care of any billing and documentation so that you can receive reimbursement. Our Novi, MI dentist office offers a range of convenient payment options:
Cash, check, and credit card
Flexible spending accounts, health savings accounts, etc.
Financing options for qualified patients
Payment schedules for complete treatment plans
Looking for more information on a specific form of Dentures or Dental Implants or Implant supported Dentures? Call Arbor Dental Associates in Novi, MI for a consultation. Call our dental office at (248) 468-4962 today!