Novi, MI family and cosmetic dentist Dr. Christopher Paulson is an licensed provider of Ortho Molecular Products. Patients can order and refill products through Arbor Dental Associates by calling our office at (248) 468-4962. If you have questions about a specific product not listed below, contact our office.
Alpha Base Premier Packs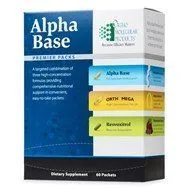 Good nutrition promotes health, while nutritional deficiencies can lead to many chronic diseases. Yet, many people underestimate the importance of achieving proper levels of essential nutrients each day. For the human body to complete vital daily tasks, it must be given a wide and complex variety of key nutrients. Nutritional deficiencies may be caused by drug-induced nutrient depletion, poor food choices, inadequate nutrient levels in soil, and improper food transport and food processing techniques. Combine this with the impact of a high-stress, fast-paced modern lifestyle, and ensuring foundational nutrition each day becomes essential.
Alpha Base Premier Packs provide a targeted combination of three high-concentration nutritional formulas in convenient, easy-to-take packets. Each pack includes Alpha Base Capsules without Iron, a hypo-allergenic, comprehensive, high-quality blend of bioavailable vitamins and minerals. Orthomega 820 is also included, and contains 430 mg of eicosapentaenoic acid (EPA) and 390 mg of docosahexaenoic acid (DHA) omega-3 fatty acids per soft gel. Finally, each pack includes Resvoxitrol, a unique combination of phytonutrients designed to enhance antioxidant potential in the body.
(*Suggested Use: 1 packet per day or as recommended by your health care professional)
Ortho Biotic 100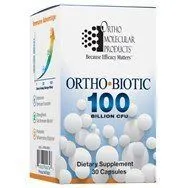 The GI tract is a finely balanced environment where roughly 500 different strains of bacteria compete for space and nutrients. When there is a healthy balance (eubiosis), few symptoms exist. However, dysbiosis can occur when an overabundance of potentially harmful organisms prevail. The natural microflora balance can be upset by medications (such as antibiotics, oral contraceptives, etc.), excessive alcohol consumption, or poor dietary intake.
Going beyond the threshold of traditional probiotic support, high-dose probiotics influence GI health and immunity in ways lower-dose probiotics cannot. Shown to activate over 1,700 genes involved in immune and inflammatory signaling, high-dose probiotics improve immune function, strengthen the gut-immune barrier, and promote inflammatory balance. Each Ortho Biotic 100 capsule provides six proven probiotic strains chosen for their ability to survive the harsh GI environment to deliver superior results.
(*Suggested Use: 1 capsule per day or as recommended by your health care professional. Guaranteed potency at expiration. No refrigeration required.)
Diaxinol
Maintaining healthy blood sugar (glucose) levels can often pose a challenge because, on average, Americans spend 21 hours a day being sedentary. Additionally, we consume foods that are highly processed, refined, and contain excessive levels of sugar while offering very little in the way of micronutrients and fiber. Combining these lifestyle practices with genetic predisposition and high stress patterns make it very difficult to maintain adequate blood sugar levels. Healthy blood sugar regulation is a complex process that requires a number of metabolic factors working at optimal capacity. Part of this process includes a region in the pancreas called the Islets of Langerhans. This region has various types of cells involved in regulating blood sugar levels. If blood glucose levels fall (which often occurs due to stress or lack of food intake for an extended period of time), the alpha cells of this region secrete glucagon, a hormone that triggers the release of stored glucose (glycogen) from the liver and skeletal muscles. Conversely, when blood sugar levels are elevated, beta cells in the Islets of Langerhans secrete the hormone insulin. Insulin causes liver cells, muscle cells and fat cells to take up glucose from the bloodstream. The delicate balance of blood sugar levels is crucial for regulating the body's production of energy. Micronutrients such as chromium and biotin are required to support enzymatic reactions and cellular signaling systems that maintain the body's homeostasis. Diaxinol® is a natural and synergistic formula for maintaining balanced blood sugar. Through enhanced signaling at the cellular level, Diaxinol®'s blend of natural extracts and vitamins support healthy blood glucose levels. Diaxino®l's unique and effective formulation contains five ingredients provided at targeted doses for maximum efficacy. Alpha lipoic acid (ALA) is a potent antioxidant that supports insulin regulation, glucose utilization, and cellular metabolism. Cinnulin®, a patented 20:1 aqueous cinnamon extract, supports both balanced glucose metabolism and healthy blood lipid levels. Chromium is added to support glucose tolerance factor (GTF) production, a critical component in cellular uptake of glucose.
CM Core
The powerful combination of berberine and alpha lipoic acid (ALA) helps maintain heart function, metabolism, antioxidant status, and lipid and glucose levels. In addition to maintaining healthy lipid levels, cardiovascular wellness is also driven by metabolic factors including blood sugar control, blood pressure and inflammatory balance. Among their numerous benefits, berberine and alpha lipoic acid activate the master metabolic switch, adenosine mono-phosphate kinase (AMPK). Activation of this powerful metabolic enzyme triggers a variety of genes that help improve metabolism, stabilize mitochondria, and enhance insulin sensitivity. Clinical research shows that maintaining optimal cardiovascular health should address multiple metabolic factors such as blood sugar support, lipid balance, inflammatory balance, metabolic efficiency, and antioxidant status. CM Core®'s unique formula offers multidimensional support for these aspects of cardiovascular health.
(*Suggested Use: 3 capsules per day or as recommended by your health care professional.)
Betaine & Pepsin
Symptoms of indigestion are often mistaken for excessive gastric acid. This leads many to take acid blockers in attempt to lower stomach acid, when the true culprit is likely to be insufficient levels of HCl. The resulting reduction in stomach acidity can lead to impaired protein digestion and mineral breakdown over time, as well as changes in the gut flora and promotion of unwanted bacteria such as H.pylori. Maintaining adequate levels of HCl is fundamental to healthy protein digestion, nutrient availability and maintenance of beneficial gastric flora. Betaine HCl and pepsin are produced by the hormone gastrin. Gastrin signals the gastric glands and parietal cells to produce HCl, and stimulates chief cells to produce pepsin. Once the pH of the stomach reaches around 2.0, the gastrin mechanism slows and the negative feedback causes parietal cells to decrease production of HCl. Since pepsin is most active in low pH values, gastric juices must be acidic for the enzyme to function. Support of natural gastric secretions and acidity with Betaine & Pepsin supports normal digestion, absorption and optimal immune health. In addition, maintaining an acidic pH in the stomach helps support normal gastric and intestinal flora. Betaine & Pepsin provides two essential components of healthy digestion: hydrochloric acid (HCl) and the digestive enzyme, pepsin. Hydrochloric acid is vital for the proper digestion of protein and the absorption of vitamins and minerals (especially vitamin B12, calcium, magnesium, copper and zinc). HCl also plays an important role in signaling the pancreas to release digestive enzymes. Pepsin is one of the first enzymes to initiate protein digestion and works in synergy with HCl to provide complete protein digestive support. Betaine & Pepsin includes 1,040 mg Betaine HCl USP and 208 mg Pepsin per serving.